Hairball Audio, LLC
DIY Kit Repair
Terms of Service
Cost and return shipping
Hairball Audio, LLC currently offers repairs on kit builds. Our time for repair work is offered at a flat-rate fee. The customer pays for all replacement parts and return shipping. The rate includes full testing and calibration (if required). Our testing procedure typically lasts 30 minutes. The repair itself may take 30 minutes or it may take several hours. Regardless of the time spent, you will be charged the same flat rate.

The rates are:
Lola Mic Pre - $50 plus parts and shipping
Elements Mic Pre - $50 plus parts and shipping
FET/500 - $100 plus parts and shipping
FET Compressor (19" Rack) - $150 plus parts and shipping

Please note that we only repair stock configurations. We do not offer repairs on Elements "Silver" custom configurations or any Lola, FET/500, or Elements units with user modifications. Units must be fully assembled with all of the components mounted.
Current 19" FET/RACK Branded Compressor Instructions (After July 2016)
If you're sending in the current FET/RACK with larger PCB and snap-in wiring, you just need to send in the following components:
Main PCB
Attack and Release PCB
Ratio Switch PCB
Meter Switch PCB
There is no need to send any of the wiring.

Earlier 19" Rack FET Compressor Instructions (Before July 2016)
Please note we will not build or repair your power supply. DO NOT send your power supply or enclosure.

Preparing your unit:
Disconnect the power from the mainboard (25V-0V-25V)
Disconnect the output transformer
Disconnect the input circuit at the main PCB (+ and -)
Disconnect pad 28 and 29
Disconnect the ground lug from the chassis
The final circuit you submit for repair should look like this: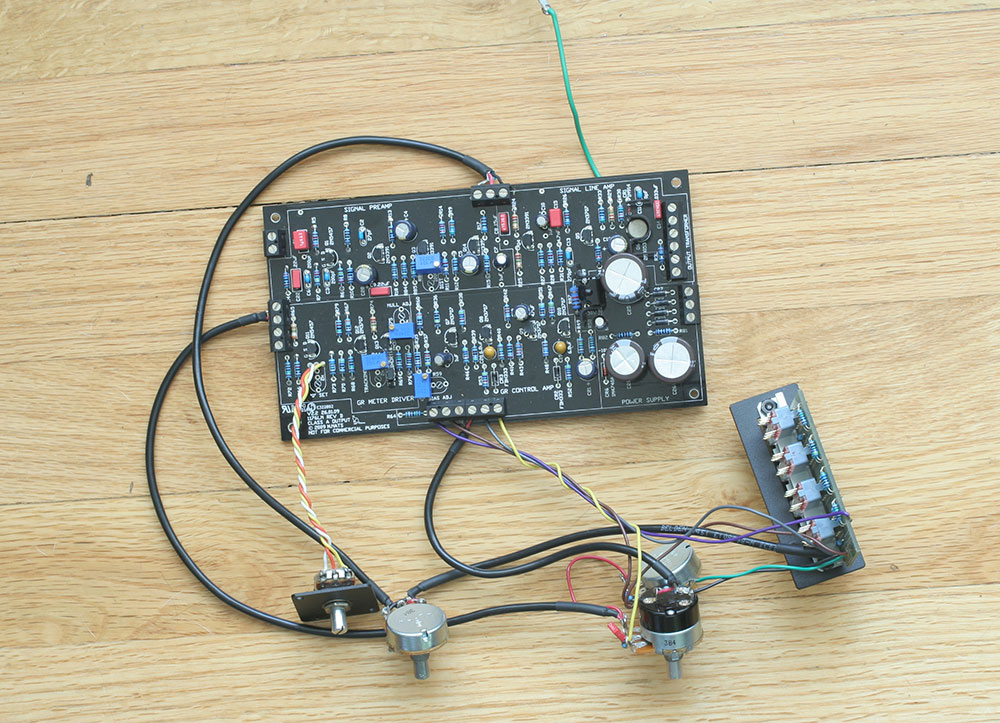 You will be submitting the main PCB, ratio switch, output pot, attack pot, release pot, and zero adjust all wired. If you submit something other than this it will be returned without repair. We will fix it in our jig here and return it for you to reinstall repaired and calibrated.

Timeframe
Please allow up to 14 days from the day we receive your unit for repair work. This does not include return shipping. We will contact you if your repair requires more time based on current workload.

Faulty components and PCB Damage
In rare cases onboard components can fail, it's the nature of electronic components. For this reason, companies that sell completed units have an established "burn-in" time (usually 24-72 hours) and testing afterward. If a component is faulty, it often fails immediately or a few hours into usage. Since we sell DIY kits, we cannot identify components that may be "dead on arrival" (DOA) or suffer early failure. If you identify a failed component, we're always happy to send you a new one. However, if you send in a unit for repair that has a faulty component you will still be charged for the repair fee and the cost of any replacement parts. There are two reasons for this:

With any DIY project, the builder bears the responsibility of troubleshooting and testing parts as described above, if you test your parts during assembly and one is faulty, we will replace it. If your testing indicates that your part may be faulty, please contact us via email to discuss the issue. There is no need to send your unit in for repair.
Many components are damaged during installation from either poor technique or soldering equipment. The same is true for damaged PCB traces and pads. They are typically damaged from poor technique or under/overheating. We will repair damaged pads/traces with wire jumpers as part of the repair fee.

The only exceptions are transformers and pre-assembled op-amps since these components are manufactured specifically for us and tested prior to shipping. If it is deemed that your unit is not functional because of a bad transformer or pre-assembled op-amp that has no noticeable installation damage, we will waive the repair fee and replace the part for free. We will also pay for return shipping.

DIY Op-Amps
If you send in a Lola mic pre that has DIY-990s, the $50 flat rate repair does not cover repair of the op-amps. The op-amps can be difficult to fix so if we determine that a DIY op-amp is the root of your issue, we will offer you the option of purchasing a new assembled op-amp or op-amps ($45/each) and you will NOT be charged the repair cost. Typically, only one op-amp is bad so your out of pocket cost is still roughly $50 and it saves us the headache of trying to repair the op-amp. Your unit will still receive post-repair testing. Smoking and burning of main PCB resistors R31 and R32 for op-amp 1 and R36 and R37 for op-amps 2 are indicative of a bad op-amp.

Warranties
Any repair work includes a warranty of one year for the specific area of repair. This warranty DOES NOT cover further issues not related to the original repair work.

Right of refusal
We reserve the right to refuse a repair upon arrival at Hairball Audio. This would include builds with severe overheating damage due to poor soldering technique/equipment, careless component placement, and modifications. In these rare cases (has never happened) we would pay for return shipping.

Payment Terms
Payment is due at the completion of the repair and testing. If your unit requires more than $20 in parts, we will contact you before we continue the repair. You will receive a report on the repair work completed and an invoice by PayPal. Once payment is received your unit will be shipped back to you.

Requesting a Repair
To request a repair, visit our Repair Request form and submit a request. We will respond with shipping information and a repair number. Please clearly write the repair number on your shipping box. By sending in your repair you acknowledge that you understand and agree to all terms in this document.

Revision 1.2 05/12/2020